Electronic payments for school meals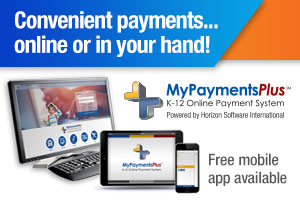 The meal pre-payment website for Kingsport City School Nutrition Services Department is now available. Please visit MyPayments Plus! to check low balances, monitor purchases, and deposit funds via bank account or credit card.
There is a 4.75% fee per transaction. If you have not used this service before, you will be required to set up an account. Call (423) 378.2113 to receive your student's ID number (required when setting up your account and different from the student pin number used at school), email Andria Ball at
[email protected]
, or contact the school cafeteria. There is no charge or account deposit required to monitor purchases, check balances, or receive low balance notices via email.
Parents may still deposit money into their students account by sending cash or a check to school. Checks should be made out to the school cafeteria name. For example, parents of students at Dobyns-Bennett High School will write checks to D-B Cafeteria and include their students pin number on the check's memo line.
Meal charge procedures
The meal is defined as the federally funded meal on the day insufficient funds occurs. This excludes all ala carte items.
When insufficient funds reach negative $5.00, a notice of insufficient funds shall be sent home with the student (elementary and middle schools only).
The insufficient funds reminder will be sent home weekly by the cafeteria manager for accounts that are greater than negative $5.00.
When insufficient funds reach negative $20.00, a standardized insufficient funds letter and a free and reduced meal application will be mailed by the school.
Once a student account balance reaches negative $20.00, a student will no longer be allowed to charge a meal of choice. Until charges are corrected, a student will receive a sandwich and milk in lieu of a chosen meal for lunch only. There will be no alternative food items for breakfast.
If the charge limit is exceeded multiple times during the school year, or is problematic with the student, the student can be referred to the Family Resource Center or the School Based Family Liaison at any time.
Toward the end of the school year, the SNS office will provide each school a list of students who maintain a negative balance.
Please contact
Andria Ball
,
SNS Bookkeeper/Office Assistant
at
(423) 378.2113
or
[email protected]
with questions regarding meal prices, payments and/or free/reduced meals.