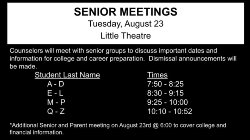 What

Senior Meetings in Little Theatre (see time information below)

When

8/23/2022
Counselors will meet with senior groups to discuss important dates and information for college and career preparation. Dismissal announcements will be made.
*Additional Senior and Parent meeting on August 23rd @ 6:00 to cover college and financial information.